Student Resources
Guides
Guides, Policies, and Handbooks
Non-Discrimination Policy
Louisville Seminary is an equal opportunity employer. It is the policy of the Seminary to comply with applicable employment laws. The Seminary does not discriminate on the basis of race, color, religion (except as religion may be a bona fide occupational qualification for certain positions at the Seminary), sex, sexual orientation, gender identity, national origin, age, veteran status, or disability.

Louisville Seminary has established a policy of treating all students and student applicants equally without regard to ethnic and national background, sex, sexual orientation, gender identity, religion, age, or physical disability. This is in compliance with the Civil Rights Act of 1964, Section 504 of the Rehabilitation Act of 1972, Title IX of the Educational Amendment of 1972, Americans with Disabilities Act of 1990, and the Age Discrimination Act of 1975.

Louisville Seminary has been approved for attendance by non immigrant alien students by the Immigration and Naturalization Service.

Inclusive and Expansive Language
These resources are available to guide students and faculty in using non-biased language:

Well Chosen Words , a guide to understanding and using inclusive and expansive language, developed by the Racial Ethnic and Women's Ministries/PW ministry area in consultation with the Advocacy Committee on Women's Concerns of the Presbyterian Church (USA).
The Chicago Manual of Style, 16th Ed. (If login is required, use your library card number and pin.) See sections 5.221 through 5.230 for advice and examples on using bias-free language. This manual is also available in print at the E. M. White Library circulation desk.
The Concise Rules of APA Style (2010) See sections 1.12 through 1.17 for methods to remove bias from writing. This style guide is available at the E. M. White Library circulation desk.

Online Writing Lab
Click here to visit the Online Writing Lab.

Ministry
Ordination Examination Preparation
To assure students are prepared for the Presbyterian Ordination Exams, academic courses such as Presbyterian Polity and Reformed Worship and To Be Reformed have been developed to support students in meeting the requirements for ordination. Preparation sessions for Ordination Exams are held each year. The Academic Support Center offers a workshop on skills for answering ordination examination type questions. Other workshops are provided as the need arises. For more information, contact the Dean of Students, kgray@lpts.edu or (502) 992-9367 .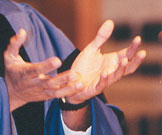 Placement in Ministry
As students discern their call to ministry, the directors of Field Education and Placement provide assistance in linking graduates with congregations and other ministry opportunities. Following are some of the aids provided to seniors:

Discernment Groups: Students work together to discern where God is leading them in ministry. This is especially valuable for students who are actively seeking a call and trying to determine where God is leading.

Ordination Examination Preparation: A variety of workshops are held to help students prepare for the ordination examinations of the Presbyterian Church (USA).

Placement Seminars: Seniors are invited to participate in workshops, often led by denominational leaders, that include:

Writing the Personal Information Form (PIF)
Reading the Church Information Form (CIF)
Interviewing and negotiating a call
Clergy tax law
Fiscal Fitness workshop with the Board of Pensions
Keeping alive spiritually in ministry
Designing an ordination service
Other topics of concern to seniors