Financial Aid
The financing of a seminary education is made possible through the gifts of people in the church and society, and Seminary investments of those funds. At Louisville Seminary, we are pleased to have funds available to offer generous financial aid packages to students.

The Seminary has several kinds of financial aid available: Tuition Scholarships, Presidential Scholarships, and Educational Loans. Scholarships are funds that do not need to be paid back.

Presidential Scholarships are awarded based on academic achievement and/or a promise for ministry. Current scholarships are for $20,000 a year, and a student's full-time tuition costs are paid from the scholarship.

All admitted master's-level students who do not receive a Presidential Scholarship will receive a 100% Tuition Scholarship. These funds pay for the cost of tuition for the hours required for a degree. Students need to maintain minimum hours of enrollment to maintain a Tuition Scholarship. Note that required fees are not covered by Tuition Scholarships.

Students may decline to receive Seminary tuition support if requested.
Federal Financial Aid
Louisville Seminary has two financial aid programs which are supported by federal funds: the Federal Direct Loan Program and the Federal Work Study Program. To be eligible for either you must:

Be a U.S. citizen or an eligible noncitizen
Have a valid Social Security Number
Be working toward a degree
Maintain Satisfactory Academic Progress once you're in a postsecondary school
Not be in default on previous federal loans

**Additional eligibility requirements may apply.

All students interested in federal student aid must complete the Free Application for Federal Student Aid (FAFSA) form.
Apply online at www.fafsa.gov.
Louisville Seminary's Federal School Code: G001974

The Office of Financial Aid will review your FAFSA and, based on the information provided, will determine eligibility for the Federal Loan Program and the Federal Work Study Program.

Federal Unsubsidized Loan: Graduate Students may be eligible for a maximum of $20,500 per academic year in Unsubsidized Federal Loans. These must be repaid and interest begins to accrue at disbursement. Repayment begins once a student graduates, withdraws, or becomes less than a half-time student.

For more information on Federal Student Loans please visit: https://studentloans.gov/myDirectLoan/index.action

Federal Work Study provides part-time jobs for graduate students with financial need, allowing them to earn money to help pay education expenses. The program encourages community service work and work related to the student's course of study.
Tuition
Louisville Seminary fees for 2020-2021. Tuition, fees, and rates are subject to change.
| | price |
| --- | --- |
| Tuition | |
| *MDiv, MA, per credit hour | $426.00 |
| **DMin - Flat Fee | $14,500.00 |
| Program Continuation Fee (per term after six terms) | $750.00 |
| Fees Charged Per Semester | |
| Community Activity | $56.00 |
| Student Services | $9.00 |
| Academic Support Services | $78.00 |
| Copyright Fee | $25.00 |
| Non-degree Student Fee | $98.00 |
| Academic Fees | |
| Late Registration | $76.00 |
| Add/Drop Fee (per class) | $17.50 |
| Audit (per credit hour) | $70.00 |
| Other Fees | |
| Application - (MDiv/MAR/MFT) | $50.00 |
| Application - (DMin) | $75.00 |
| Graduation - (all degree programs) | $76.00 |
| Transcript (per copy; current students do not pay) | electronic $7.50, paper $10.00 |
| SBTS Recreation Facility/Health Clinic (per semester) | $350.00 |
*MDiv candidates normally carry an annual course load of 27 credit hours, if full-time, and 15 credit hours, if half-time.
**The flat tuition fee may be paid in six equal installments over three years.
Student Income Opportunities
Field Education Stipends - Field education opportunities equip students with practical experiences outside of the classroom. Each field education position pays a stipend over eight-and-one-half months. Typically, students work approximately 16 hours each week (earning approximately $300 per month). Summer allows more work time, typically 25 to 40 hours a week.

Student Supply Pastors - Advanced students also are eligible to serve as student supply pastors. These positions may offer larger stipends (approximately $500 per month) than field education placement but are only available to advanced students.
Campus Housing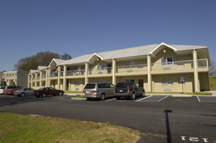 Studio housing and apartment housing are assigned on a multilevel priority-based system. Some students may need to find space off-campus.

For students accepted for classes in the fall semester, the housing deadline for priority consideration is April 15. Please contact the Housing Coordinator in the Dean of Student Engagement Office at (800) 264-1839, ext. 297 or (502) 992-9297 for further details. A Residential Handbook with a detailed outline of this policy is available.

Studios and efficiencies are furnished. One-, two-, and three-bedroom apartments are unfurnished. Students in apartments must supply dishes, silverware, linens and cooking utensils. All inquiries about housing should be directed to the Housing Coordinator.

Download and complete the 2020 Housing Application.

Housing rates are subject to change annually.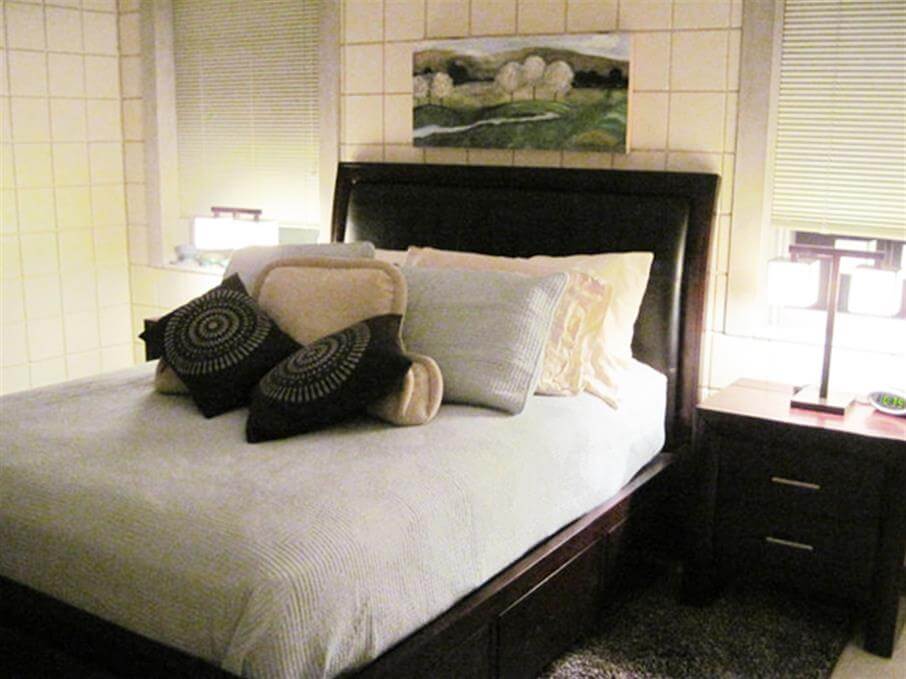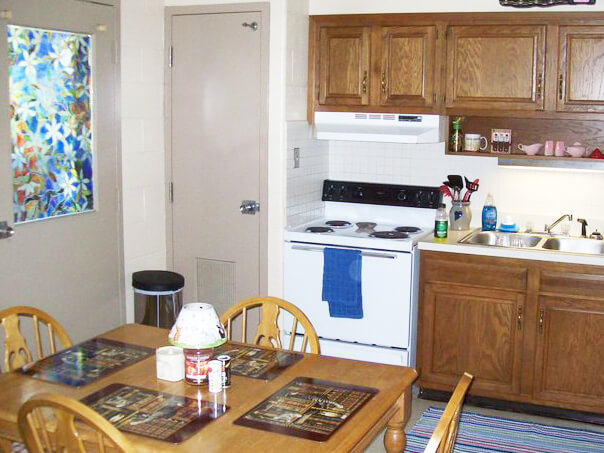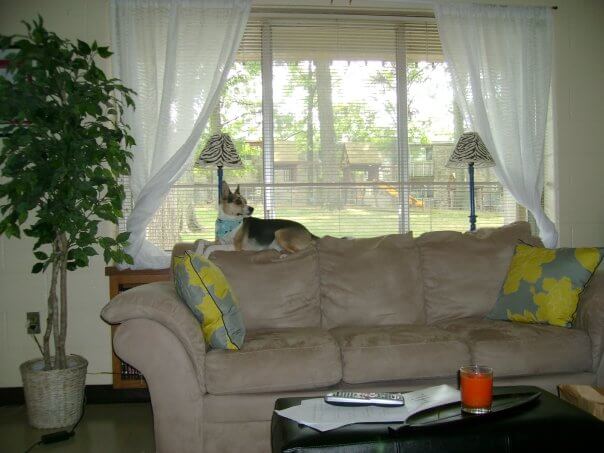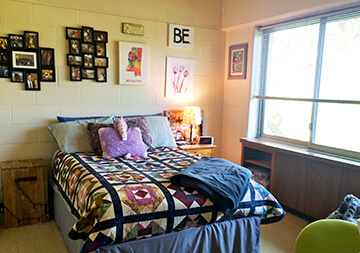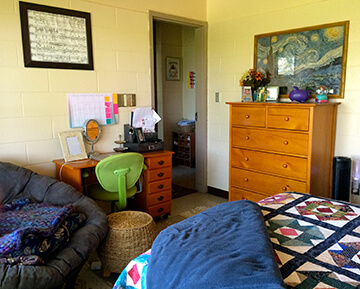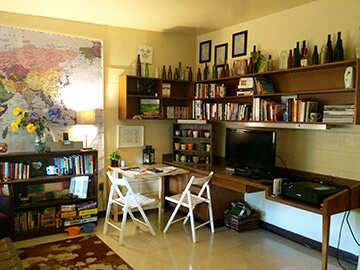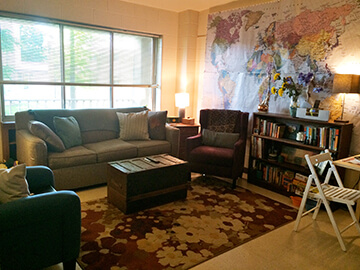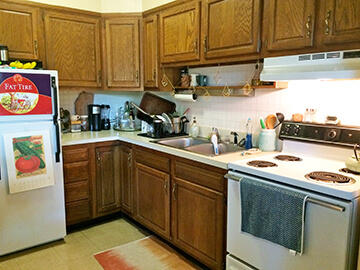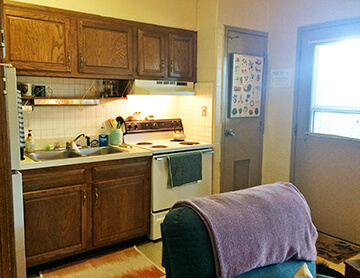 Apartment Student Lease Rates (Monthly)
| Size | Price |
| --- | --- |
| Efficiency | $532.00 |
| Studio | $553.00 |
| 1 Bedroom | $614.00 |
| Small 2 Bedroom | $690.00 |
| 2 Bedroom | $709.00 |
| 3 Bedroom | $891.00 |
*Includes heat, cooling, electricity, and cable TV, but not internet.
Utilities
The cost for heating, cooling, electricity, and cable TV are included in the apartment lease rates.

Off-Campus Housing Options
Louisville Seminary is situated near three of Louisville's loveliest neighborhoods. Each features a wide variety of rental apartments and housing. To the north, Crescent Hill neighborhood offers the least expensive rental units. To the east, the City of St. Matthews offers family-oriented housing. To the west, the Highlands offers a broad range of apartment and housing rentals at an equally broad range of prices.