Memorial Garden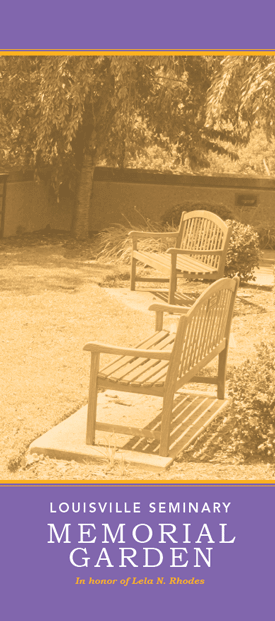 Located behind Caldwell Chapel, the Memorial Garden, established in honor of Lela N. Rhodes, is available for people with strong ties to Louisville Seminary and who desire to have their ashes committed to the ground. For family members and friends, the garden is a place where they can return and share memories of their loved one.

Eligibility Eligibility for burying ashes on the Seminary campus is extended to students, alums, staff, administrators, faculty, trustees, and their spouses; and to former faculty staff, administrators, trustees, and their spouses, and friends of the Seminary.

Fees and Services A place on the Memorial Garden wall may be reserved in advance for a fee of $450. This fee covers the interment of ashes, as well as the bronze plaque with the requested information. The Seminary reserves the right to adjust the fee in the future.

Ashes may be placed in a cardboard or biodegradable container, no larger than 9" X 9", or may be committed directly into the soil at the burial site.

No spot within the Garden will be designated for a specific individual. Family members may reserve adjacent plaque sites for spouses for future use, as they are available.

All arrangements for interment services, including delivery of the ashes to the Louisville Seminary campus, shall be the responsibility of family members of the deceased or their designee.

The Seminary will maintain the Memorial Garden site and care for the grounds and plantings. The Memorial Garden site has been dedicated in perpetuity for the purpose of the committal of ashes.

Reservations While exceptions may be granted, advance requests for such services should be not less than 14 days prior. Reservations for space in the Memorial Garden may be made through the Office for Institutional Advancement, (502) 895-3411 or (502) 992-9353.

View the 2017 Memorial Garden Brochure.