Ashley Hicks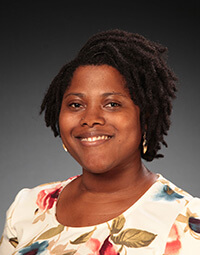 Associate Professor of Marriage and Family Therapy
The Ohio State University, BA (dual degree), MS, PhD

Ashley Hicks is a specialist in couples/family therapy, a licensed marriage and family therapist, and an AAMFT Approved Supervisor Candidate. She joined Louisville Seminary's faculty in 2016.

Hicks has worked in a number of clinical settings serving clients from diverse backgrounds including racial/ethnic minorities, LGBTQ populations, homeless and low socio-economic individuals and families. Her current research focuses on the intersection of mental health, oppression, and well-being among African Americans. Her other research interests and teaching experience include risk and resilience in adolescent development, adolescent eating disorders, trauma exposure and trauma informed care, and culturally informed care of African American, Hispanic, and immigrant youth and families.

In addition to her teaching and research experience, Hicks maintains an active commitment to congregational ministries and social action to change the circumstances in which families live. Most recently she served in the Women of Power Human Trafficking Ministry and the Take 2 College Discipleship Ministry at New Salem Baptist Church in Columbus, Ohio. She is also a member of the Ohio Association of Marriage and Family Therapy and the Ohio Department of Education's Anti-Harassment, Intimidation and Bullying Initiative.
"As a teacher, it is my privilege to help students develop critical thinking skills and provide an atmosphere that facilitates personal development and self-reflection. I believe that culture is an important aspect of the educational process and aim to encourage students to consider how culture influences one's worldview and the way they interact and operate within larger society."
–Ashley Hicks