Anita S. Coleman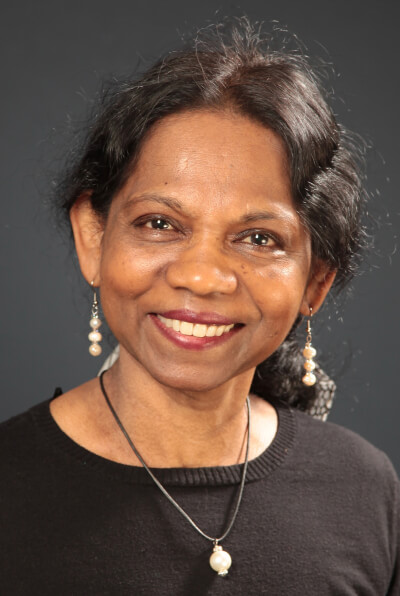 Associate Professor of Bibliography and Research
Director of Library Services for the Ernest Miller White Library
Stella Maris College (Madras, India), BA; University of Madras (Chennai, India), MLIS; Southern Illinois University at Carbondale, MS; University of Illinois at Urbana-Champaign, PhD

Anita S. Coleman joined Louisville Seminary's faculty as Associate Professor of Bibliography and Research and Director of Library Services for the Ernest Miller White Library in 2020. She has worked in academic libraries and on teaching faculty in library and information science degree programs for more than 25 years.

Coleman develops and manages the library's growing collection, which includes more than 203,000 bound volumes, 6,500 microforms, 4,500 audio-visual resources, and 330 e-resources. She also creates learning programs and provides support for emerging technologies within the library. Coleman represents Louisville Seminary locally on the Metroversity Librarian's Council and nationally in the American Theological Library Association.

A scholar/activist, anti-racism educator, and lay theologian, Coleman is the founder and curator for the Irvine for Everyone Digital Library, an online resource created to de-stigmatize and de-mystify homeless people, empower learning about Irvine (California) housing development, and create permanent solutions for ending homelessness and increasing housing supply in Orange County, California. She is also the founder and curator of the Anti-Racism Digital Library and Thesaurus, which serves as a clearinghouse for information resources about people, groups, and projects who are building inclusive and caring communities.

Coleman has published several books including Rise, Shine, Be Woke (2018), Stepping Stones: Creating Communities of Peace and Justice (2018), All things work for good: Flora, Ananda Rao Samuel, and Pravaham (2018), Eyes on Christ: Reflections on Being the People of God in the PC (USA) from My Heart to Yours (2014), and peer-reviewed articles in scholarly journals.

She has taught at the University of Illinois at Urbana-Champaign, University of California at Los Angeles, University of California at Santa Barbara, and University of Arizona, Tucson. Her professional honors include a Library Journal Movers & Shakers Award for her work establishing dLIST, which is the first open access repository in the multi-disciplinary Information Sciences. Coleman's professional affiliations include service on the 2021 Gathering Program Planning Committee for Presbyterian Women, Inc., the editorial board of Horizons Magazine, vice president of the Presbyterians Writers Guild, among others.